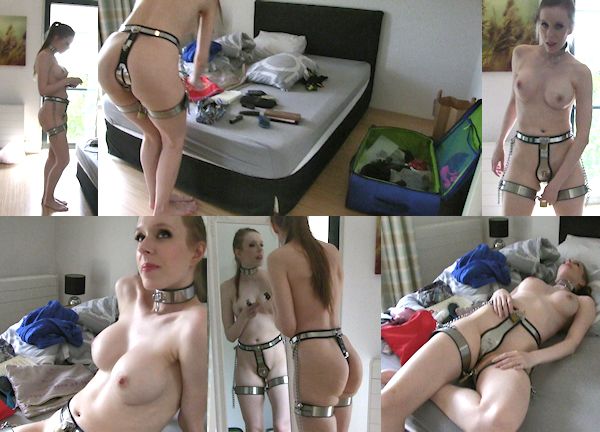 My life is not too bad. A naked Cobie running around for over a month: yes please! Well, not entirely naked of course, that would be too dangerous! She is well protected with a locked NeoSteel and a pair of thigh bands that slow her down. Cobie sure makes a lot of noise now with those rattling chains, which is good for finding out where she is, because the new model house is huge.
Climbing the stairs to the fourth floor (where Cobie's bedroom is), is quite a challenge in thigh bands, but Cobie seems to be running around like she doesn't even notice. Well, she complained about the huge padlock between her thighs, but I know her quite well and I can see when the complaining isn't real. Cobie's bedroom looks like her suitcase just exploded all over the floor, the bed, and most of the cupboards. Don't worry though, this is how the guest rooms look whenever models are staying at the house. Somehow they just explode all over the room. Maybe it's a girl thing?
Cobie was busy organizing her stuff again. You see, she was staying in Holland for a long time, but there were moments she had to pack again to visit other shoots and places. For example, we went to BoundCon in Munich, so that meant she had to pack a big part of her stuff again. It's a lot of packing and unpacking, the life of a travelling model. But I guess she is used to it, because she seemed quite relaxed about it, just rattling around in her tight belt and thigh bands.
This is one of the best Deals I ever made, Cobie is 100% into chastity and she was all over the house, completely naked, never covering up when I came talk to her. She just seemed so comfortable in her belt! I wish she could stay in Europe forever! You will agree with me if you met her during this trip: she is one of the best!