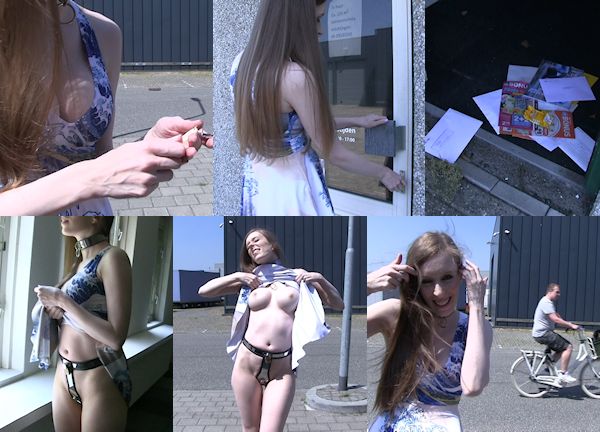 So we found this key on the street (true story) and the label said '9B', which is one of the units next to my studio! Now, if you remember this update, you will know that Cobie loves exploring buildings, especially when she is not supposed to be in there!
And that's what we did. We entered the building without permission. It was exciting and illegal, but we did it. Cobie was very curious about this space, and I have to say, I was pretty interested myself. Inside, there was a pile of mail and some dead bugs. No one had been in there for quite a while! Cobie had fun exploring the dark building, flashing her chastity belt to the camera like she always does when she is wearing short dresses. She is so naughty! Cobie was trespassing IN a chastity belt! How much more naughty can you get!
After looking around for a while, we decided the building was pretty boring, so we went outside again. There, Cobie started flashing her belt to cars and cyclists. She always does that, there is no stopping her! It's so much fun to have her back in Holland, and in the belt, Cobie is perhaps the most natural of all Chastity Babes! Even though the belt is tight, she doesn't complain nearly as much as other girls, and she seems cheerful. Perhaps (and this is important) even more cheerful than when she is not belted. Think about that! She is just the best!