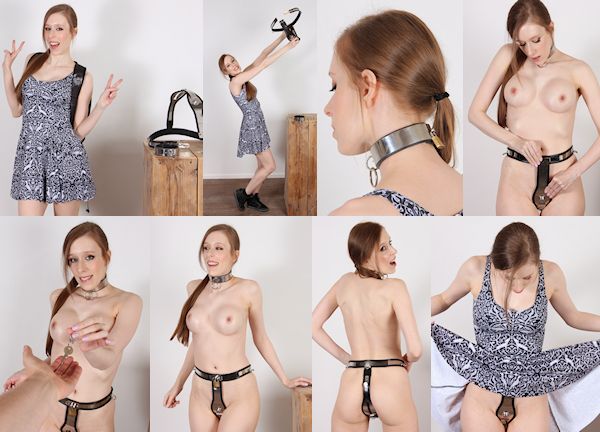 This is seriously good news! Cobie is back!! One of our top Chastity Babes, a very sweet and sexy girl who truly loves to get belted and challenged! Of course, she can't be here very often, as she is from Australia, but she made it all the way over here for an epic Chastity Deal!
After more than 24 hours travelling time, Cobie finally arrived in Amsterdam. She was tired and wanted to sleep for a few days first, to get into the new timezone and to rest from her mega journey. Of course, I took her to the studio first to get belted and collared. And tired as she was, Cobie agreed she should be locked first before we went to the house she would be staying at.
Cobie will be in Amsterdam for a record-breaking 37 days! This means she will be doing a longer Chastity Deal than she has ever done before! She choose the NeoSteel over the FancySteel for this deal, as it is the most comfortable and secure belt. She wasn't sure about the collar (because it keeps her up at night), but I insisted on a collar for the entire Deal too. More than 5 weeks in a belt!
Of course, we had to go visit BoundCon in Munich together, so while flying back and forth to Munich she couldn't be belted. And there would be daily cleaning/toilet breaks as well. Apart from other duties like photo shoots or BoundCon bondage appearances, Cobie would be belted for the best part of 5 weeks! That's a long challenge!
In today's update you will see Cobie lock herself back in the NeoSteel after more than a year! Still a perfect fit! She looks so great, and I am very happy to have her back for more adventures in chastity! Don't miss this update, Cobie is one of the best!