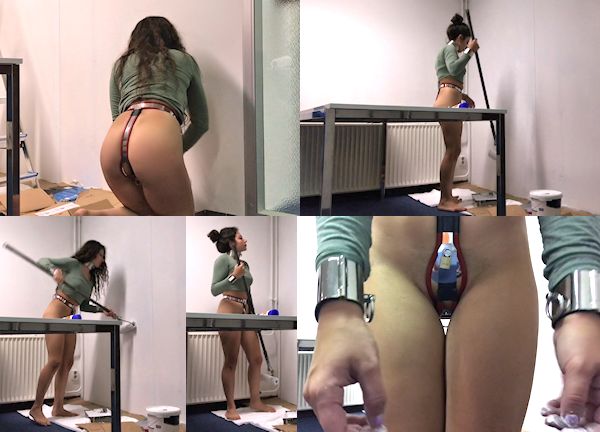 What's happening with Anahí? Many people want to know if she is still my studio assistant. And if she is still required to wear a belt, cuffs, and collar when she is coming to work here. Yes, yes, and yes!
Does she wear a belt 24/7? No, she doesn't wear one at home. She probably wouldn't even mind, but it never was discussed. She just knows she will be locked in her red My-Steel and custom made collar and cuffs when she comes to work. We get emails all the time from people who want to visit our studio to meet Anahí and that's fine! A lot of people were here already. We are available and you can have a coffee with Anahí any time you like!
This week, Anahí was painting a wall and I told her to record it so you can see how she works here in the studio. It's a long video of someone painting a wall. Usually that would be very boring, but not when it features a girl locked in a tight chastity belt, a big collar, and rattling cuffs! Anahí is the best and cutest assistant ever! You will love this video! If you ever have an opportunity to visit our studio in Holland, send us an email and we will set up a meeting!