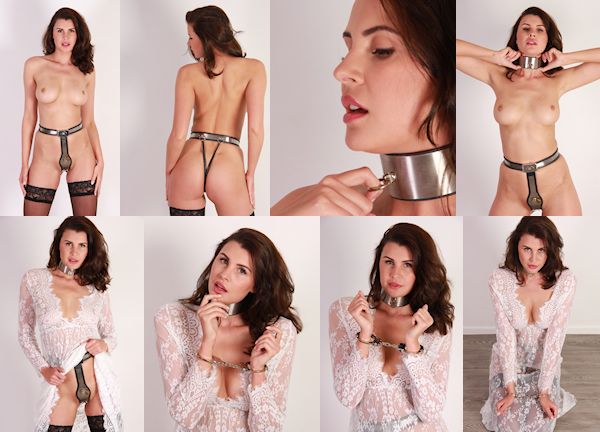 Collecting babes from all countries! I don't think we had a Polish Chastity Babe before? Alisa wanted to do a Casting for our site, and she is a stunner! I locked her in a Y-style chastity belt before she could change her mind and started filming her when she was doing her makeup, to see if she had any issues sitting in a chastity belt for the first time in her life.
Alisa seemed to be doing fine. She is a tall girl, with a great figure, so a waist-style belt was definitely the right option for her. A wide locking metal collar was also added, something that Alisa liked very much. Girls these days love collars because it's trendy now, so it is a lot easier to lock a collar on a girl than a few years ago. Alisa went and got a nice white sheer dress to put over her belt, so the belt was still visible. She seemed very quiet and submissive ever since I had collared her, she must have really gotten into it.
To test her, I gave her a pair of handcuffs without saying anything. And yep: Alisa locked them onto her wrists like she had been expecting it. Very strange, we never discussed any restraints before the shoot. Let's just say this Polish babe is not just stunning, she certainly has submissive feelings lurking beneath her drop-dead gorgeous surface. It was a real treat holding the keys to her belt, collar, and handcuffs for a few hours, and I would certainly invite her back for a Chastity Deal if comments and emails are positive ;)
Enjoy this gorgeous belted girl!