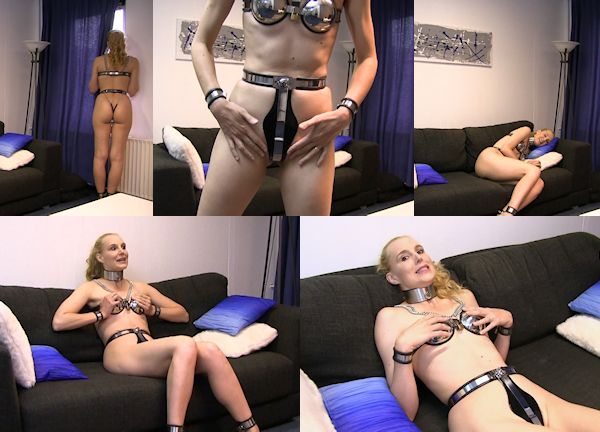 Ariel Anderssen really should be coming over a lot more! What a lot of fun she is! Whenever there is a camera, she just starts talking to it. Even when it is just the camera in our living room (waiting area), Ariel just keeps talking about how she feels and what she thinks about the tight chastity gear she is wearing.
She is still locked in the tight Access Denied belt (chain style) and a very tight chastity bra. It took her some time to get used to the tightness, with some 'oh my goodness', 'my word', and 'I can't believe I'm doing this'. Yes, it was tight. But Ariel loves bondage and she compares this Challenge to her bondage adventures. Being a very experienced model means she has done some crazy things, so a day in some tight chastity gear is probably not the most extreme thing she has done.
Ariel got used to the gear very quickly I think, but she just likes to be very vocal about everything. She is a bit posh, so the idea of having to pee through the belt was disgusting to her. I decided to give her a little break for a toilet visit, also because I wanted to see the marks on her waist and butt. The belt was tight and I did not want to hurt her (too much) because it was the first day of her European tour and she would have to pose for many photographers after this Challenge.
Don't worry though, she was perfectly fine. Ariel was intrigued by the belt and the bra. The fact that she couldn't touch herself was mind blowing to her. She even noticed little things, like using the high security radial lock key sent some interesting vibrations through the belt while she was unlocking herself for her toilet break. She never stops commenting, so we get a first hand opinion from a Chastity Babe about her experiences in a nice tight setup. Don't miss this!