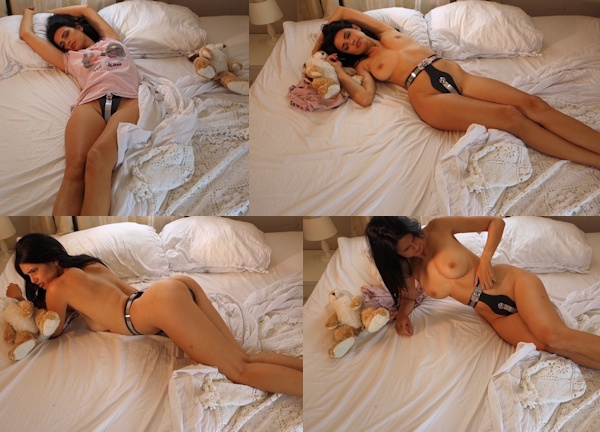 Yasmine tried to get some sleep in the belt. She knew it would be hard, but it was only one night, so if she couldn't sleep it would not be a huge problem. Still, she was very tired and she wished she had not signed the 24-hour Home Deal.
The Access Denied belt was tight on her waist, so she struggled to find a good sleeping position. Maybe she was also getting a little excited, because she threw the blankets off while squirming around. She got some sleep, but most of the night she was adjusting and fighting the belt. She even started talking to her belt, saying: 'you, Mister Belt, are coming off today', which is pretty funny. Imagine Yasmine in a longer Deal! She would go crazy!
Unfortunately she was right. The belt would come off after this night. She would have to take the 2 hour tram and train journey again to my studio, where I was waiting with the key. The funny thing was that some of you had sent in a custom video request with Yasmine, so she wasn't unlocked straight away, but had to spend a few more hours in my studio doing all kinds of (tight and hard) bondage things for a few lucky people who managed to get their custom orders in!
Yasmine is a challenge girl. And of course, the prize money helps a lot. So she asked me if there was any chance of a new Chastity Deal. I'm already thinking of giving her some new challenges, although she won't do any plugs there should be plenty of other evil things we can do to her! Help me by sending in your suggestions! Here are some hints: she loves super tight bondage, she can handle shocks (pads or collar, not plugs), and she looks super hot in full chastity (just look at some of her first updates). Yasmine is also available for custom exclusive videos, don't forget to order yours soon!