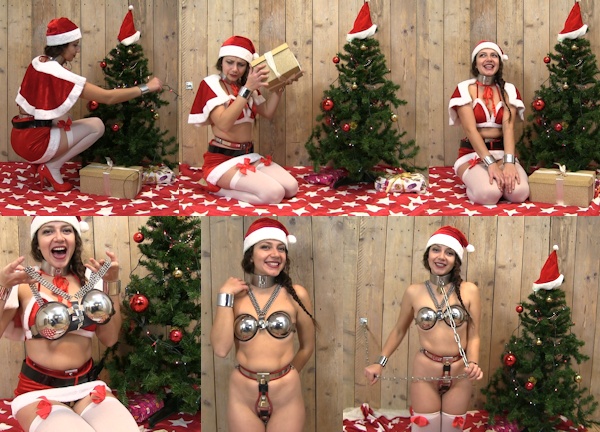 Guess what? I caught my studio assistant dressed up as a little Santa's helper (I guess that makes me Santa), recording a Christmas message for all of you! She is just so cute! You have asked me to feature her more on this site, so here she is: my real life assistant Anahí, who ALWAYS has to wear her super tight red My-Steel chastity belt, collar, and cuffs when she is working in the studio.
Now, as a few of you have noticed, she forgot to wear her collar and cuffs recently and you have suggested I should punish her for that by adding a chastity bra to her work uniform. It will make her even more focused on her tasks. I never added a bra to her uniform, because I wanted to give her a matching (red) My-Steel bra, but that's very expensive.
After some thought, I think you were right and I decided to give her a (temporary) chastity bra for Christmas! Anahí did not expect this, but she wasn't scared either, I think she always suspected that a bra would be added at some point. Well, today is the day, Anahí got a (tight) chastity bra for Christmas, and even though it does not have red trim, it still looks amazing on her! It will also help new Chastity Babes to accept a bra more easily, since there will be someone in the studio who is already wearing one, and Anahí can give them tips (mainly for breathing and sleeping) from her own experience.
Merry Christmas from me and Anahí, we hope you will give your partner the gift of chastity too! Remember, all girls should be in chastity all the time! And if you want to make it about equality, guys should be in chastity all the time too! It makes life so much more exciting! Enjoy your holidays and stay locked!