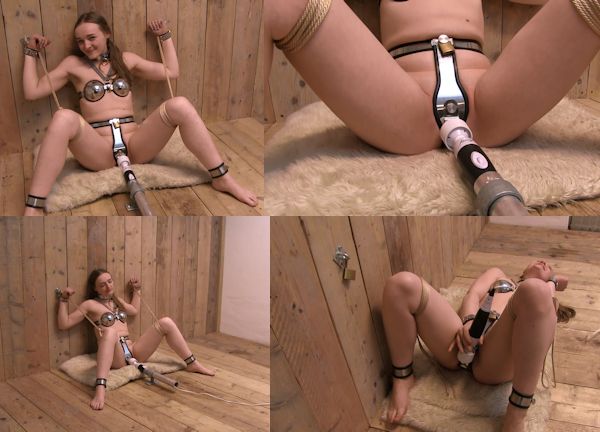 Well, I have never seen anyone as frustrated in a Chastity Deal as sweet young Kerry. The big nylon vaginal dildo must have really gotten to her. She had no problems with the full chastity gear (bra, belt, collar, cuffs), but the plug was making (and keeping) her wet all the time. She was about to burst!
Kerry knew I wouldn't let her out of the belt, and I think she secretly enjoyed the challenge. She was still asking for the keys, even though she didn't really expect me to hand them over. Instead, I gave her something else: a magic wand! I'm so nice! First, I cuffed her wrists to the wall and spread her legs with ropes, so the magic wand could be bolted to the floor and do its work.
It was a lot of fun, Kerry could feel the vibrations but the belt was in the way, so it was very frustrating for her. I asked her if she could the vibrations in the plug, and she told me the magic wand wasn't at the right angle for that. So I uncuffed her and let try for herself. I wasn't worried, she wouldn't be able to climax in this tight thick metal NeoSteel. Kerry tried and tried, but she only got more and more frustrated. And she still had at least a day more to go! This was going to be so much fun, a frustrated young girl in a tight belt for 24 more hours is so interesting to observe (this is all for science of course).
"I'm enjoying it and not enjoying it…" – Kerry, about her Chastity Deal