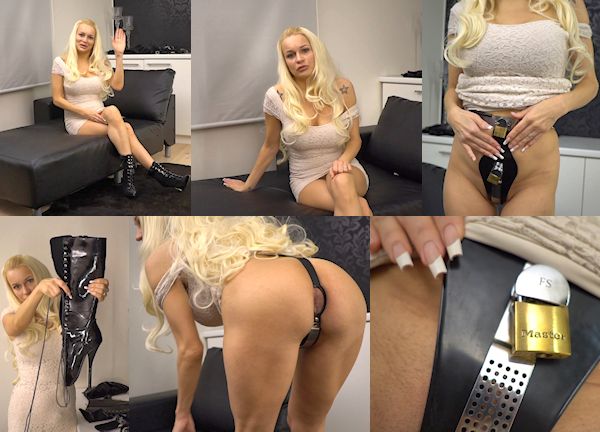 Whenever new Chastity Babes emerge, I am on the case! Of course you have all seen a few pictures of Dirty Mary in her own Access Denied belt, she is making a name for herself in the fetish scene very fast! Her belt is very awesome and a great fit! I contacted her to see if she was interested to become a Chastity Babe, which means she would be locked in her belt more often (and longer) by her Master, for the pleasure of you, the ChastityBabes.com members.
Mary agreed to show her chastity and fetish lifestyle to us, and she made this introduction video from her home in Finland. She talks about herself, what her interests are, the parties she visits, and which kinky things she owns. Of course, she shows us her tight Access Denied belt, to which she does not have the keys. Her Master locks her up quite often (and now even more), but she never exactly knows when she will be locked and how long.
Mary will hopefully come to Holland next year, to do a Chastity Deal with me. She will of course be staying at the apartment, locked in her own belt from the minute she lands in Amsterdam! I am looking forward to hosting her! Meanwhile, she is available for member requests and she will happily answer any questions about herself and her belt. Please welcome Mary to this website by leaving some nice comments. It's always great to add girls who actually have their own belts and are really into the lifestyle!