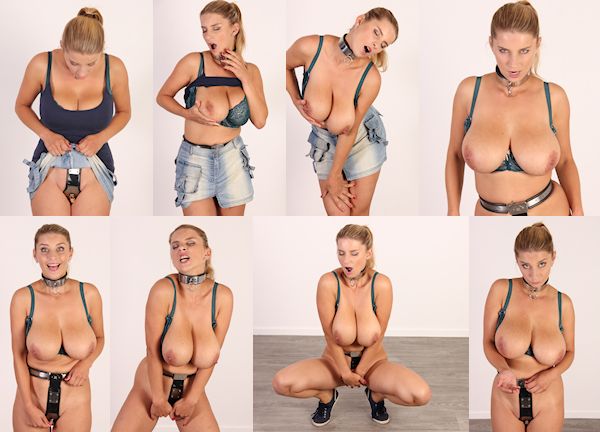 This website tries to bring you the most famous babes and put them in chastity. Hence the name :) Of course, I have cute amateurs too, and those stories are often even better, but the thought of seeing a babe who is all over the internet and being able to lock her in chastity, often it is a dream come true! I have been fortunate enough to belt Little Caprice, Stella Cox, Jenni C, Tina Kay, Hannah Claydon, Candle Boxxx, Dani Divine, and Katie Thornton, all big names on the net, and for at least a short while, they were unable to touch themselves.
When number 1 busty babe Katerina Hartlova was near Amsterdam, I managed to convince her to join the ranks of belted babes! She is a truly spectacular busty babe, always horny and very very funny! She loves sex, especially touching herself (who wouldn't with those boobs), and teasing people. I probably won't be able to find her a chastity bra, but that's ok, because Katerina's boobs are too awesome to hide. Besides, her own boobs make her very horny (they are so big she can suck on her nipples), but she could never climax from touching them. In a way, NOT locking her in a chastity bra is even worse for her!
Most of the more famous girls are hard to get back after a Casting, but I think Katerina would genuinely love to come back for a few challenges (I'm thinking about plugging her next time if she will take that Challenge). She had a lot of fun here, although she couldn't believe how hard it was for her to wear a chastity belt. Katerina wants to touch herself all the time, she is literally ALWAYS horny and she had never had her pussy locked away. She was confused but intrigued.
Please enjoy this spectacular striptease by the cutest busty girl ever! She will drive you wild, like the belt did to her! If you know of any other famous babes that should be belted, don't hesitate to comment below! Please keep in mind I am in Europe. I love all the American girls you suggest, but it is hard to get them over here.