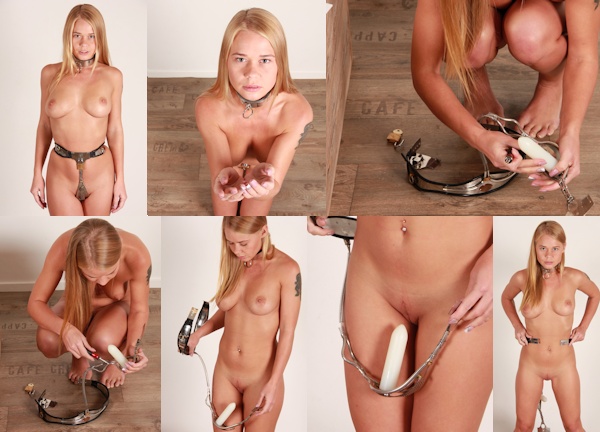 Things are going fast for cute young Darina from Russia! She is so curious!
When we came back from Amsterdam, Darina needed to go to the toilet very badly and she begged me for the key. I almost wanted to make her pee through the FancySteel perforated secondary shield, but I got a better idea at the last moment. I gave her the key to take off her belt, and supervised her toilet break to see if she did not touch herself. Then I quickly put a NeoSteel nylon plug and some lube next to the belt, and told Darina to hold as she was already locking the belt back on (she is so obedient).
I made her unscrew the secondary shield so we could insert the plug base under it. Then the shield was put back onto the belt and the plug was screwed onto the base. It was something I tested before, there is just enough room for the plug base to slide between the shields (the primary FancySteel shield is slotted). It is a large plug and it has to be completely inserted, but Darina understood what had to be done, I did not even have to give her any instructions. I guess she had taken a good look at this site before flying over.
With the plug installed, Darina went on to lock the belt onto herself and insert the big plug with the help of some lube. Amazingly, it slid right in (well, with a few little pushes). She was now filled very well, and after locking the padlock in place, there was absolutely no way for Darina to get the NeoSteel plug out. She actually got a little bit shy all of a sudden, with that big plug inside of her.
Even though the belt and plug are from different brands, it was a great fit. An Australian belt with a German plug on a Russian girl in Holland! Don't miss it!