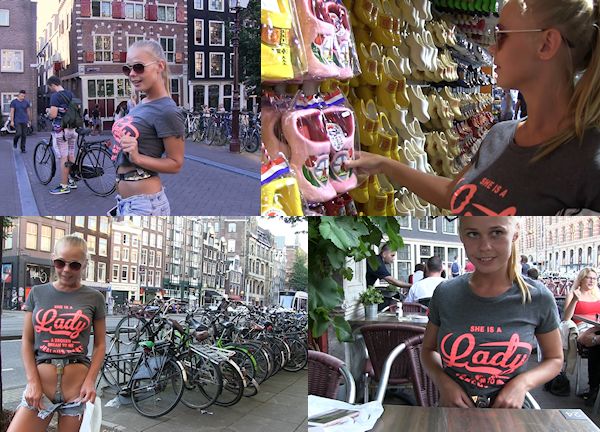 Darina is probably the most grateful Chastity Babe ever. Even though she was locked in a tight FancySteel for the entire day, she really did not care about any conditions, she just wanted to fulfill her life long dream: to see Amsterdam!
She never would have thought her innocent email from Russia would lead to this: flights, accommodation, meals, and of course sight seeing in Amsterdam, all included in this Deal. I probably lost a bit of money there. Why do I do this? Because I can't resist girls in chastity belts. If you are eager and you email me to get a Deal, I will probably give in at some point.
In this case, I don't regret it for a second! Darina is one of the most cheerful, bubbly, flirty girls ever! And don't think she did not have any troubles with the tight FancySteel, she could hardly sit down (we had to take two train rides and we ate in a restaurant), and even walking was hard to get used to. But she did not complain, in fact, she really took some risks and flashed her belt wherever she could in the heart of busy touristy Amsterdam. A lot of people saw the belt, that's for sure!
Now Amsterdam is a city where anything goes, so no one really gets alarmed about a girl locked in a metal belt. It was actually the filming that was the hardest part. People still don't really like cameras, even when there are hundreds of YouTubers out there filming their stunts in the city.
Darina had the best time of her life. She marveled at the coffee shops (the smell of weed), the red light district, the bikes, the wooden shoes, windmills, and tulips… everything that is cliché and touristy about Amsterdam. In her Russian accent, she just kept saying: 'me very like Amsterdam' and 'very many people'. I guess she fulfilled her life long dream, and I had a great time giving her this opportunity! Don't miss this video, it will definitely cheer you up (and give you a nice view of the city if you've never been here).