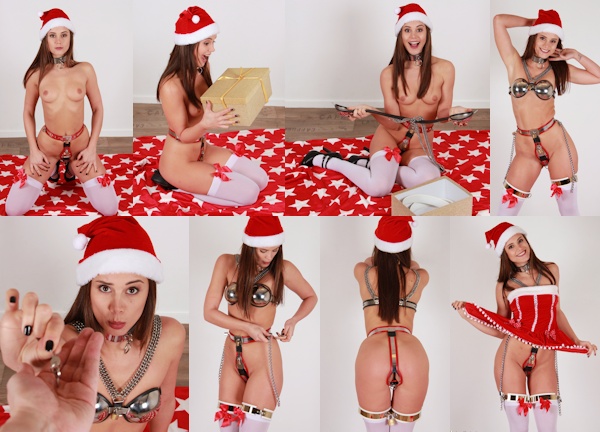 This is such a great time of the year! And I have got something really special for you all! Little Caprice is back (and she does not shoot for other websites that much these days, so this is exclusive!). This beautiful girl always loves being locked in chastity, and she looks amazing in the My-Steel belt she also wore at the public convention last year!
But it is Christmas, and that means I have a few more gifts for her! Collared and belted like a naughty Santa girl, Caprice impatiently waits until she can open her presents. It is a box full of surprises! Some extra gear that she will have to lock onto herself! A shiny silver chastity bra and a pair of gold thigh bands with white trim! This is going to be get us all in the holiday spirit!
It is so awesome to see this famous girl lock herself into all this chastity gear! And she doesn't mind either! We all know she is very naughty and horny all day. So getting Little Caprice in chastity is always a unique experience. She wants to play with herself all day long, given the chance, so it must feel really strange for her, not being able to touch herself.
She looks great in her chastity bra, belt, and gold thigh bands! The thigh bands are securely padlocked together (no chain) so she can not even open her legs. That's chastity! Enjoy this very special update with Little Caprice and check back for a few holiday wishes from the studio in the next few days! I would like to wish all members a very Merry Christmas! Thank you for supporting me, I will keep trying to bring you the best girls in chastity! Happy holidays from Holland!