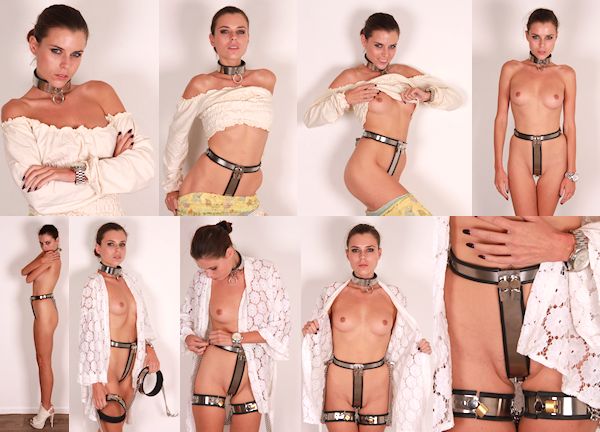 Time to add a few more Babes to my collection! I receive so many Casting applications, I don't even have enough time to invite everyone. Which doesn't really go well with my ultimate goal 'all girls should be in chastity all the time'. Maybe I need some Casting agents around the world to shoot all these aspiring Chastity Babes in metal gear!
I made time for the incredibly stunning Crystl however. She is a world class gymnast, and the most flexible girl I have ever seen. Her body structure is amazing, she is very slender with a tiny waist, neck and wrists. Such a graceful beauty! Crystl is from the Ukraine and she was visiting Holland, curious about bondage and chastity. It was hard to find a belt that would fit this tiny girl, but I managed to lock her into a chain style belt rather securely. Look how big my smallest collar is on her neck though!
Crystl strips off her clothing and is told to add a pair of standard thigh bands. I think the standard chain between the legs is too long, but that's how these bands are supplied, so I tried it with Crystl. She obediently locks herself in the thigh bands, and looks even more stunning! What a girl! She is a natural submissive, and you can bend her into any position (including a full leg split) without any problems! Well, at least those thigh bands will stop her from doing leg splits.
I am really looking forward to signing a Chastity Deal with this girl, she is amazing!