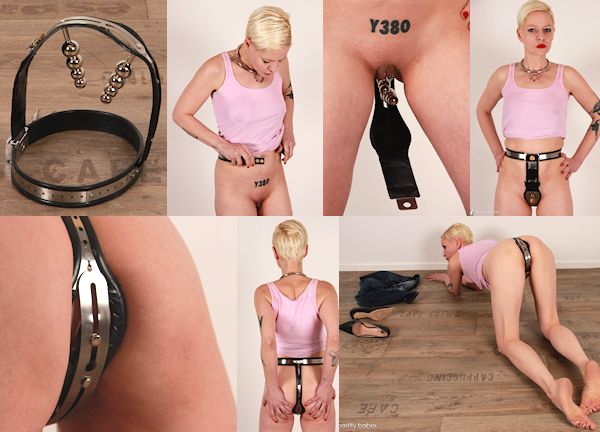 We have a lot of German visitors and members on this website, but we rarely get Chastity Babes from Germany. I wonder why that is?
When slave Y380 emailed us, we were interested right away, because she wanted to be double plugged! She wanted to experience what it would feel like, to have 2 metal plugs locked inside you, unable to take them out without a key. She arrived and I started talking to this very interesting woman. She is a real life submissive, living her life as a collared slave, and she loves plugs, bondage, and even some pain. Needless to say, Y380 is very different from most girls here, and that's what makes her so interesting. I like to show as many different Chastity Babes as possible, to show that ALL girls and women should be belted ALL the time. There are no excuses.
After inspecting the metal plugs and the chastity belt, Y380 was even more excited. She quickly lubed up the plugs and they went in without a problem. Her belt was locked on her waist and I took the keys. She needed some time to get used to the feeling, but she quickly recovered and I interviewed her about those two 4-ball plugs inside her. She was getting a little aroused, and some movement was a bit harder (like bending over), but she seemed completely fine, she even enjoyed it!
So I decided right then and there that she would be double plugged for 24 hours. Y380 did not expect that (you will love the expression on her face), but she did not complain, as she is used to obey and submit. It would be a very exciting and interesting day for her!