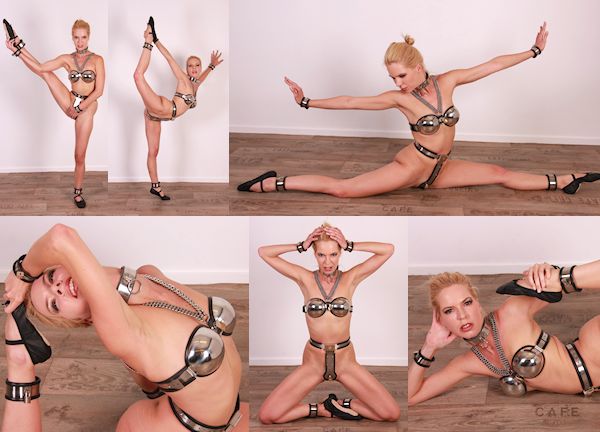 Professional gymnast Viktoria from Hungary saw our gymnastics update with Lily and she reckoned she could do even better! While I don't want to get stuck in a female gymnast war, I still decided to give Viktoria a chance. I am not judging any performance, I think it is just a great way to prove that chastity is always possible (and no sport can be an excuse to take off any chastity gear).
Feel free to have a look at both updates, and decide for yourself who is better. Or maybe they are just both great. Viktoria is very strong and flexible, that's for sure! To make things a little harder (and different), I locked some more gear on her. Besides a collar and chastity belt (which Lily also had), she is wearing wrist and ankle cuffs (no problem of course), and a chastity bra! Now that is more interesting, because I wanted to see how a bra influences her upper body flexibility and breathing. Well, I guess it is safe to say that it did not influence her at all! So a chastity bra is still proven to be wearable for all sports! The only thing I did not add were thigh bands, mainly because I am a big fan of leg splits and girls who can raise one leg straight into the air. But I will soon show you yet another sport (outdoors) that will feature thigh bands and that will be a lot of fun!
For now, please welcome this flexible Hungarian model to ChastityBabes.com, maybe we can give her some more Challenges in the future!