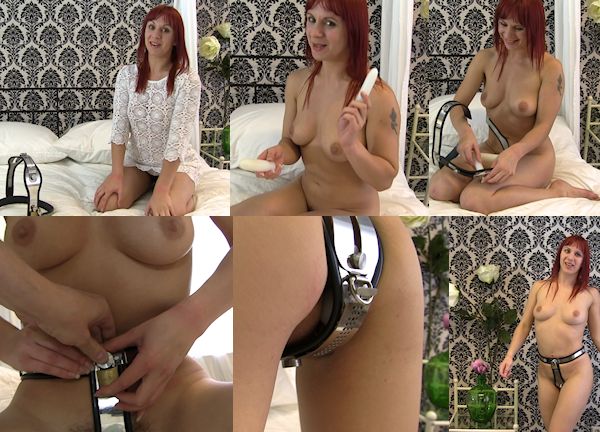 It is very hard to find girls for double plugged Chastity Deals. In fact, I don't think I have ever done a double plugged Chastity Deal! Some girls can do it, like Cobie, but find it too private to show on the internet. Other girls say they want to do it, but when the Deal comes they prefer a vaginal plug only.
But our troubles are over!! Meet Lola from the UK! She is big fan of plugs! All kinds of plugs and insertables. She loves wearing butt plugs in her daily life (with cute tails) and she is absolutely not afraid of any challenge! She asked if she could come over for a Casting in a chastity belt, but she did not know I would already add 2 plugs to her first experience in a belt!
Lola was very nervous, she was giggling and talking a lot. I tried to ease her into this idea of locking herself into a NeoSteel belt with two plugs (the nylon ones, with a slightly bigger one in front). She had not shaved, but that was okay, because this was just a Casting. After a lot of struggling and fiddling, she managed to get the belt locked with both of those big plugs inside her. She was feeling very stuffed, but she could still move around as if nothing had happened! You really have to see this video (HUGE download) to appreciate Lola's attitude and flexibility! She is amazing! First time in a chastity belt, first time with two big rigid plugs locked inside her and she was moving, walking, bending over, like it was normal for her!!
I asked her why she was so nervous, and she answered she wasn't sure what members would think of her. She really wants to do a double plugged Chastity Deal if YOU (dear readers) like her enough to come back. She will be shaved and ready, she said. Lola will get only 1 break a day in her double plugged Deal. I'm not sure about the duration of the contract, but I think Lola will sign anything if you will give her an opportunity to come back!!