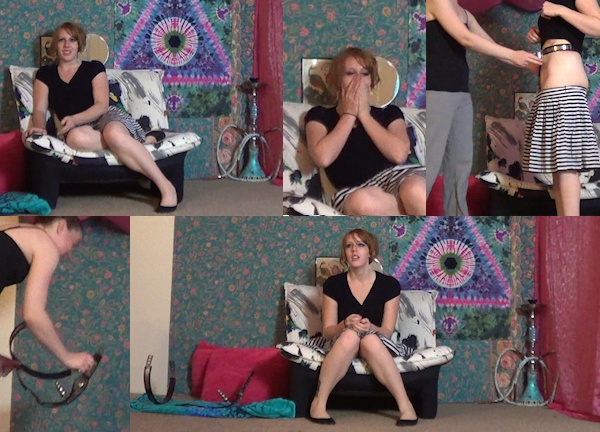 Most music fans can appreciate 'unplugged sessions', but here at ChastityBabes.com we don't really like unplugged updates. It is such a sad moment, although it is probably a relief for the belted girl who just ended her Plugged Chastity Deal.
Maybe we forget how hard this must be. There literally has been a fairly sizable piece of metal inside Athame for 24 hours. As she puts it herself, she has a 'short cervix' (she is not that tall). Annabelle estimates the plug to be 4 inches, but it is actually a bit longer that that, as Athame correctly observed. According to Athame, the plug was 'exactly the size of my vagina when I am not turned on'.
Interesting! Also interesting is the fact that Athame went into this Deal without knowing what a chastity belt was. And when she saw it, she thought she could easily push it aside to touch herself. That did not happen at all. She could not touch or clean herself for 24 hours. She did not get aroused by the plug. There was simply no way of getting any satisfaction and the plug and belt were 'just there'. She could move normally (amazing for a first time girl!), and she did not really have any problems during her Deal. Just no sex. Which would probably drive her crazy in a longer Deal.
Athame was surprised to find out that there are longer Deals. Annabelle tells her in the video that some girls did 7 days or even 30! Unfortunately, Annabelle did not mention cleaning breaks so you can see Athame was a bit worried about such long Deals. Maybe she will be back for more, but for now, she did great! No complaining, no troubles, just a young girl in a tight belt with a big plug inside of her for 24 hours! Well done!