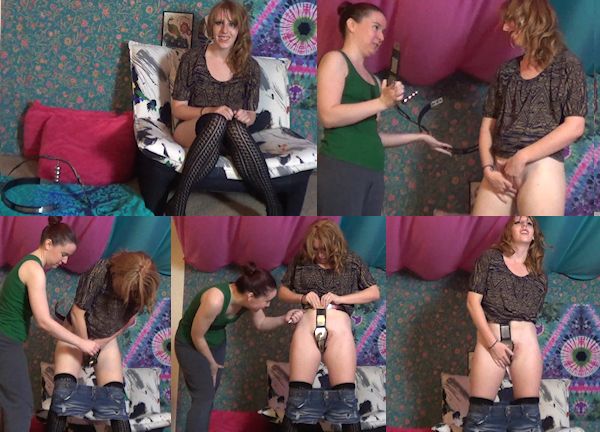 We are back in Arizona where AnnaBelle Lee found another local girl for a 24-hour Chastity Deal! AnnaBelle definitely has a different way of Casting than I do!
She invited Athame over, but did not tell her anything about a plug! Poor Athame, knowing nothing about chastity belts (she never even saw one), just assumed a plug was standard on a chastity belt. After a quick interview, AnnaBelle wasted no time in locking up her young Casting subject. No lube, 'you can use your natural wetness and slide that in for me', we can hear AnnaBelle say. Sure enough, Athame did not have any problems sliding the plug inside of her. After a lot of fiddling with the lock, Athame was tightly locked into her belt, with a 4-ball plug inside her! AnnaBelle almost forgot to take out the keys to the secondary shield padlock again, but fortunately this time she remembered.
Athame was a little overwhelmed. It all went so fast! A cold steel plug inside her and a tight chastity belt! She did not know how to sit. The belt made her want to sit very upright, but for the plug angle it was better to lean back more. She clearly had to get used to her situation. It was made even worse by the fact that AnnaBelle gives her subjects no breaks in a 24-hour Deal. The girls really have to use the toilet through the belt's 2 openings. 'You can just use plenty of wet wipes', AnnaBelle tried to comfort Athame. She was not comforted at all, she was worried! And the worst thing? She could not quit now, because she would not get that cash prize!! Don't you just love Chastity Deals!!