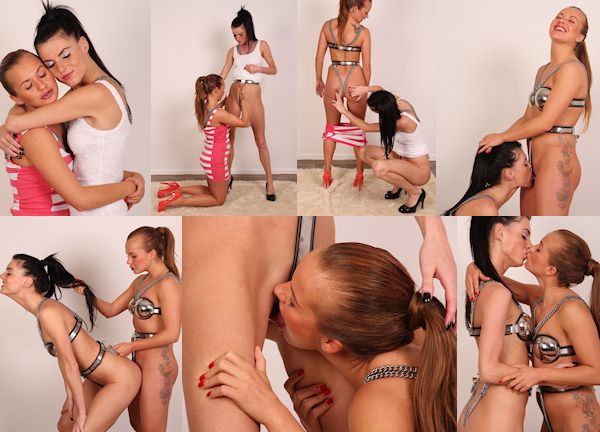 Did you know you can send in member requests for future updates on this website? Just email me with your suggestions, scripts, or ideas, and it will get done (eventually). After all, this website is for you!!
At least one of you knows, because someone sent in a Fantasy request of two lesbian girlfriends discovering they have been locked in chastity belts and chastity bras, covering all the areas they would love to touch, lick, and feel! How horrible would this be for these two girls! Very frustrating indeed!
Remember Eileen Sue? She was introduced to this site by Ashley Bulgari! I asked her to come over and bring her cute little girlfriend Bella Baby! These girls are all over each other, so it would be fun to film this member request with them! They look so good in chastity belts and bras!
But even better, they can not stop touching, kissing, and exploring! This duo tries every possible way to get some excitement, but to no avail. The belts are blocking their love! Such a fun test this was! The girls actually loved their metal gear, trying to poke a nail (and their tongue!) in between the shields to get to the labia, or checking their makeup in the reflection of the chastity bras. You just need crazy girls for a shoot like this, and Eileen and Bella are pretty insane.
I think this is exactly what you asked for (you know who you are)! I hope you like it, and I bet others will love it too! If you are a member, and you have a dream about your ultimate update, don't hesitate to send it in!! If you are not a member, just join first (only the price of a few beers) and you can request anything you like!