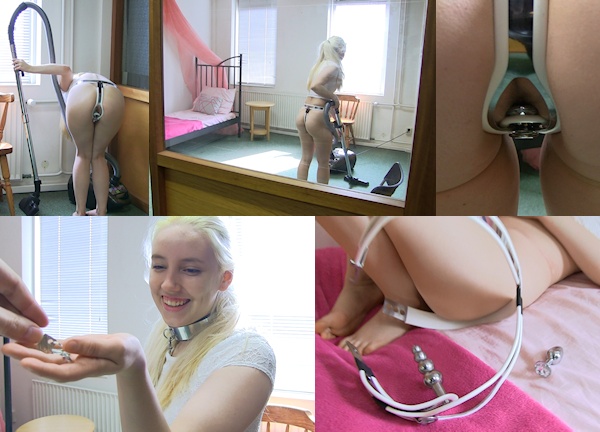 On the last day of her stay, Vina was double plugged again (she actually was on most of the days now I think about it). The jewel butt plug did not give her any problems, and it slid under the extended front shield when she was standing upright, making it almost impossible to remove without taking off the belt. Maybe she could have removed it, but she didn't (as far as I know).
She was cleaning up the studio pink room as I observed her from the corridor. She knew I was coming to give her the keys to her little white My-Steel hip belt, but she did not beg or tell me to hurry up. She was just doing her thing. The look she gives the camera when I ask her how many plugs she is wearing tells it all: Vina is just an incredibly naughty girl, and she thoroughly enjoyed her stay in Holland! Locked in her little My-Steel with a considerable vaginal plug for a little over 7 days!! The belt was almost perfect, although it hurt her hips a little, which may have caused some bruising after a week. But Vina did not complain, she never did!
After I gave her the key, she went to lie down on the bed and tried to take off the belt. Most girls like to lie down when they are locking or unlocking their chastity belt. But a My-Steel belt can be pretty hard to unlock if you do not have a lot of strength, or if you don't know how to get the padlock off. It was nice to see her struggle, trying to get the belt off, and both plugs out of her.
Vina's eyes were still so bright, looking at the camera in anticipation full of energy. When I asked 'Will you come back next year?', she whispered: 'Maybe…', but you just know she will be back! It's Vina! She is our chastity star!