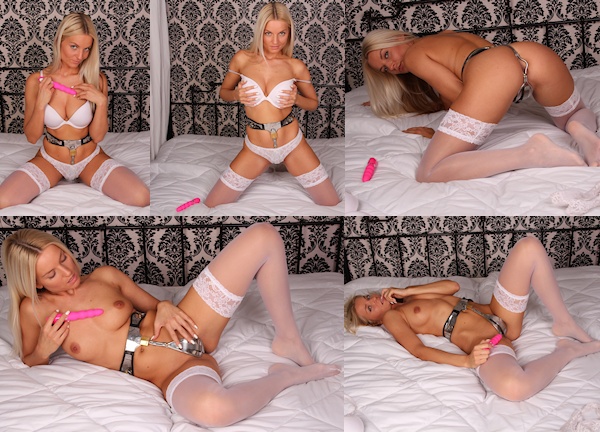 So I sent the FancySteel belt back to the manufacturer, because I got one of the first prototypes and his development had progressed a lot! He was now offering silicone lining for the waist band, and I asked him to fit my belt with this, because the girls were having problems with the uncovered steel for long term wear.
When I got the belt back (all the way from the other side of the world), it was fitted with a beautiful black silicone liner all along the waist band. Time to give this belt a new test run!! And wait, who happened to be in my studio when the belt came in? It was the incredibly gorgeous Gaby from the Czech Republic! We had been shooting some crazy things, and I noticed she had a naughty toy in her suitcase! Time for a bit of a romantic challenge!
White canopy bed, gorgeous white lingerie, and a super beautiful blonde girl with her favorite toy! Gaby definitely is a ChastityBabe! She felt so comfortable in her FancySteel, and it looked so stunning on her! Gaby got really excited, taking off her bra and panties, moving around on the bed, testing the chastity belt with her vibrator. The shield works perfectly! She couldn't feel anything, much to her disappointment. Great stuff!
Gaby definitely is a keeper, I really hope she will come back for a Chastity Deal or an exciting Challenge. She is a lot of fun and she is just too hot to be walking around unbelted! If you want to see more of Gaby, please comment below and let's get her back for more!!