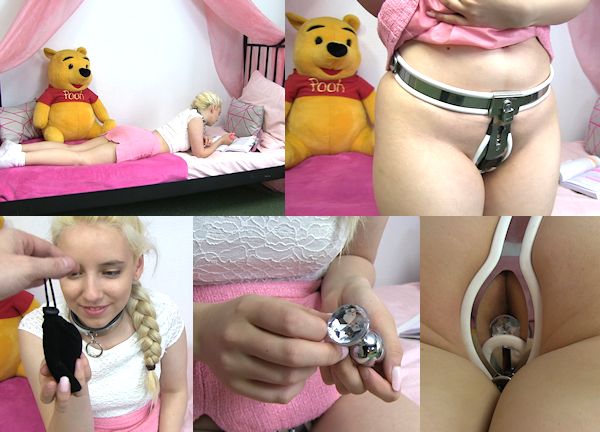 As Vina was studying very hard during her 7-day Chastity Deal, I thought I'd cheer up her day a little bit by bring her a gift!!
I bought her a big diamond! They say girls love diamonds, and diamonds are forever, and things like that, but I don't know if that's true for diamonds with a medium sized steel butt plug attached. Keep in mind, for tiny Vina, medium sized is quite big (just like her 4 ball My-Steel vaginal plug that is STILL inside her during this update, don't forget).
Vina is so awesome, she was studying while lying on the bed when I came in. She took time to answer my questions and was curious about my gift. She tried to hide her smile when she opened the little bag, but you can clearly see some naughty thoughts escaping from her before she tries to act all cool again. With a little lube, the anal jewel plug went in without a problem (through the belt's anal opening) and she continued with her studies. What a girl!
Fun fact is that she could not actually remove the anal plug afterwards. We had to take the belt off to get it out. Don't worry, I was there to supervise her, she did not touch herself. She wore it for a few hours that day, and in the next days I told her to put it in more and more often (and longer), I wanted to train her to wear it 24/7 like the vaginal plug but there wasn't enough time and it was not very secure. I may have to send the belt back to My-Steel to get the anal plug option fitted for Vina's next visit (and adjust the hip belt a little).
All in all, the gift was a success and Vina even kept it when she went home! Naughty little girl!! Get your own jewel butt plug here!