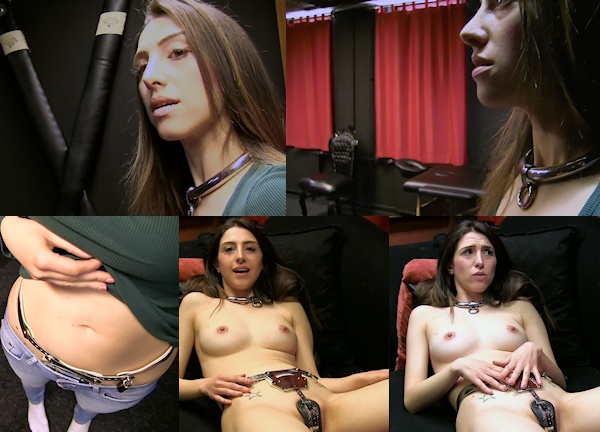 Wow, Donna is so nice this year! Her health is still not 100% but she is lovely and she helps me out a lot. I have to take her with me everywhere I go, because the new belt does not have an anal opening, but she is a great assistant and she helps me a lot while I am shooting in my studio.
Amazingly, on the third day (well, after 48 hours if you count from the belting), Donna was still locked in the belt without any breaks. The front shield allows for urination (combined with a shower, or even IN the shower) as it has metal strips that are aligned like blinds with tiny slots between them, but she did not go for a 'number 2' break yet.
I left Donna in the 'black room' (as I call it), a set that is usually rented out or used for darker BDSM shoots. I was shooting something else in the studio, so she had an hour or two to kill in this room. Surprisingly enough, Donna took it upon herself to record a Day 3 Report. First, she expressed her curiosity about the strange black room and filmed all around her. Then she decided to record herself, naked on the sofa, to tell you about her experiences with the belt and the collar. You will find out exactly what she likes about this new belt, and what she doesn't like. The collar is terribly heavy, and she is still hoping that it will only be a temporary thing.
Regardless of what you think about her gear, please show some love for Donna if you like her initiative and openmindedness this year! She is doing this for herself, yes, but she lets you enjoy her journey (and she did not have to strip naked in this update), so let's appreciate that!!