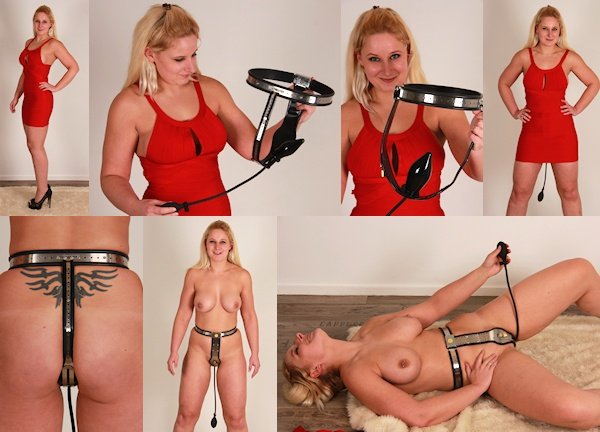 Just a little experiment with new girl Angelica! She drove all the way from Germany to try the One Bar Prison on MetalBondage.com, so I said 'well, you are here anyway, I have something else for you to try!'. Angelica is such a curious girl! She is not afraid to try things, being a body builder girl, she would probably knock me out if I crossed a line anyway :)
I had prepared a chastity belt with a very special surprise for her… I didn't know what she was going to think about it, because it would be her first time in a chastity belt, which is already exciting enough without any insertables! It turned out this girl was very intrigued by the inflatable plug! It is quite big and it can be inflated with about 4 strong pumps. The release valve lets all the air out very quickly. Angelica played around with the pump for a while, before saying 'Alright, let's do it! Do you have some lube?'. You gotta love her!
After locking her in the belt, I just stood back and watched as Angelica discovered the delights of playing with the pump plug. She imagined what it would be like to hide it under her dress and I encouraged her to put her dress back on. The pump was dangling between her legs, and that gave me all kinds of ideas for the next girls to try this (and I'm sure you can also think of some scenarios!). But after a lot of pumping and releasing, Angelica did not pay much attention to me anymore… she just took off her dress and had to lie down to continue playing with the pump plug! She was so wet and excited, and there was no way for her to reach a climax! This will be a great addition to our Challenges category! Danke Angelica!