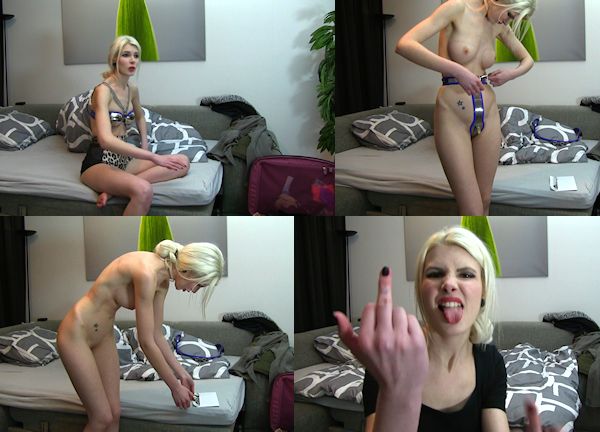 Remember how excited Birdy Dee was when she signed up for her 48-hour Chastity Deal? Check out the preview video here! She just loved the blue colors of her belt and bra, and she handed me the keys, a bit nervous but excited!
48 hours later, and Birdy has her suitcase all packed, she is waiting for the keys to arrive, almost desperate! Poor Birdy, she did not find it easy, but you have to give her credit: she made it! Don't worry about her, she was absolutely fine, except from a few good red marks on her waist, ass, and around her boobs. Birdy does have one of the most amazing bodies I've ever seen, and she has the smallest waist of all girls that are her height. There have been smaller waists (Donna, Vina), but Birdy is considerably taller than those girls! Her crotch band / waist band ratio is insane, as you can see in the videos over the past weeks.
You have got to love her spirit, she is a kinky soul (check out her Twitter), and there was never a doubt she would make it. Like all girls, there were ups and downs, especially after the initial excitement fades and the reality sinks in, and even more so in the mornings. She was so happy to be able to take off the belt and bra! It's great to see her face light up and hear her muttering 'she is never going to wear blue again'. The big relief of being able to put on a normal pair of panties and a bra… and the thought that she actually did it… all great! Although I may have to punish her somehow for flipping off my static camera like that!