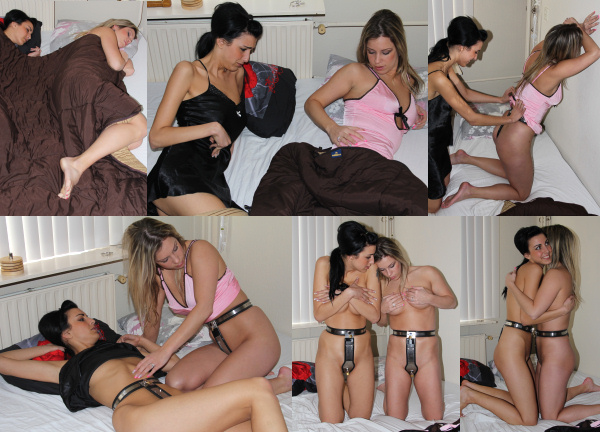 After failing to retrieve the key in the safe challenge, Jessy and Regina agreed to allow us to film at their home for the remainder of their 24 hour challenge. These girls share a small apartment, not very luxurious but it's cozy. It was straight to bed for these two because it was getting late.
The next morning they are slow to realise that they are still belted. Not just that, they belts are very very tight, and the sisters are a little worried about how much the waist bands have been pressing into their skin overnight. Forgetting all about the challenge, they immediately want to get out of the belts. They try to help each other, even using a pair of earrings as a lock pick, but nothing seems to work getting these frustrating metal devices off.
Blonde Jessy even gets a little emotional as she thinks about the 9 or 10 hours that are still ahead of them. It is sad to see her like that, but her big sister hugs her for comfort and tells her they will get through this together. Wearing a chastity belt is more of a psychological thing than a physical thing, and that is very true!