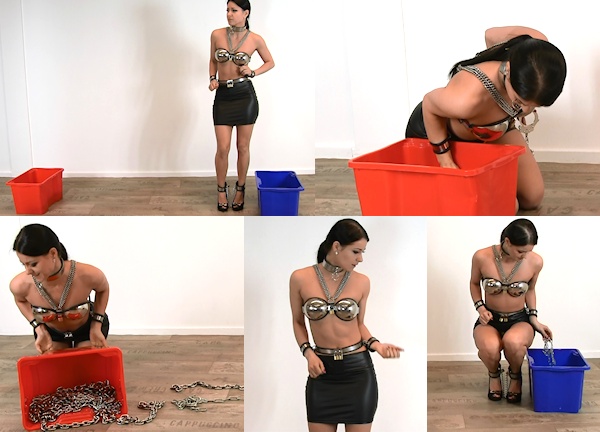 It's nice to see some girls are dropping by so often, like Melissa, Jenni, and many other top glamour models! They always stay for a day or two, knowing that 'this strange guy' will make them wear chastity devices for the duration of their stay, but they earn good money by shooting and helping me out in the studio.
Melissa is possibly one of the most gorgeous girls I've ever seen. Her eyes and her body are amazing! She has a lot of fans around the world, who would be surprised to see her here, so I won't mention her full name or site (but ask me if you are interested). Melissa has been to Holland so often, she accepts all chastity gear without questioning. Upon arrival, I always look her into a belt straight away, but most of the time I add more, because she looks so good in full chastity! Just like this time, we just shot for MetalBondage.com, and I added some more gear after the shoot. Collar, wrist and ankle cuffs. I then locked her wrist cuffs to the side of her belt, and she still didn't complain.
I thought it would be fun to give her a simple task, just to see her move around in all this metal gear. I asked her to put all of the handcuffs and chains from the red box into the blue box. The red box weighed a ton, with all the heavy gear in it, so she would have to pick them up one by one and walk over to the blue box. She wasn't allowed to move the blue box closer (although she did try, clever girl!!). She couldn't really reach into the red box because her wrists were tightly cuffed to her chastity belt. After a few runs back and forth, Melissa decided to dump the contents of the red box on the floor so it would be easier to grab it.
There is really no point to this update, except seeing one of the most gorgeous girls in the world locked in full chastity. Melissa is such a good studio assistant! I would love to keep her as a slave forever, but then again who wouldn't!!