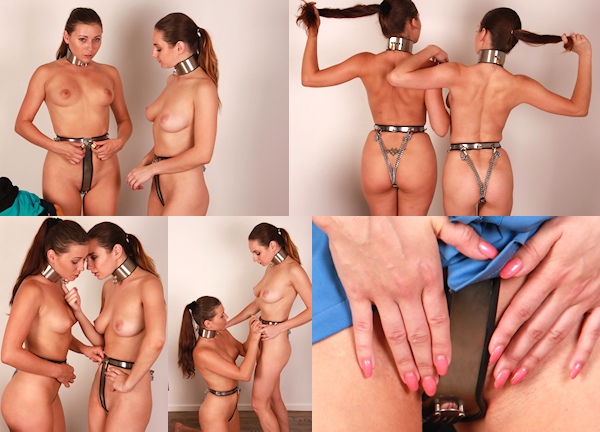 Literally, that was the subject of an email I received from these two girls from the Ukraine. There is trouble in their home country, and they managed to sneak away to the Netherlands, only to find that they are not allowed to work here. With no money and nowhere to go, they almost lost all hope, until they heard about ChastityBabes.com Castings. That news is surely spreading fast in Amsterdam foreigner circles, I can't believe it!
Katee and Ally (names changed) were nervous when they arrived in the studio, but I soon found out they weren't here for just the money. These two girls are incredibly submissive! They really want to please, and the most important thing for them is that people like them. Well, I like them in tall metal collars and chain style chastity belts, that's for sure! Both girls are absolutely gorgeous with flawless bodies!
It is a shame they had to leave the Netherlands soon after this was shot, I really would have liked to keep them and offer them a longer Deal. But, to let them make a little more cash, I also gave them the opportunity to shoot for MetalBondage.com (check it out on Sunday), and what happened there was even more incredible! Two young submissive pet slaves from the Ukraine! This is what guys secretly dream about! Enjoy their shy but HOT Casting session!