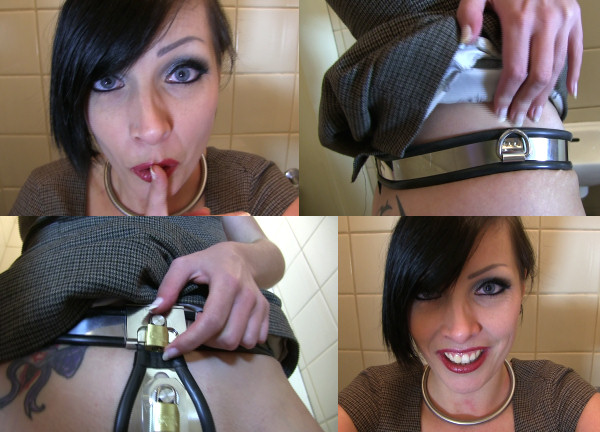 Yesterday, I received Amarantha's first self shot video report. She appears to be in a toilet (at work), where she tells you about her first night, toilet visits, skin discomforts, and more! She really wonders what she got herself into, because it's only the first day and you will certainly not let her out right now…
Even so, she pleads to be released soon (using the word 'please' about 500 times in this report), because the Deal is a lot harder than she anticipated. All Chastity Deals begin like this, the first day is the hardest, and it is never like you would have imagined in your fantasies. A real chastity belt is tight, uncomfortable (until you get really used to it), and there are all kinds of physical problems you didn't even think about until you are locked into one.
I'm sorry, Amarantha, for not posting this yesterday, I was a little busy… I admit that was evil… There will probably always be a day delay between Amarantha's report and your voting on the website, so even if you vote her out of the belt, she will still have been waiting for an extra day to read the responses to her latest report.
Please vote below. Visitors: you are allowed to vote, but since you haven't heard Amarantha make her case, please do not vote if you are not sure about your decision, this is not a game. Members: please watch the ENTIRE report to make up your mind. You can only vote once.
[poll id="4″]