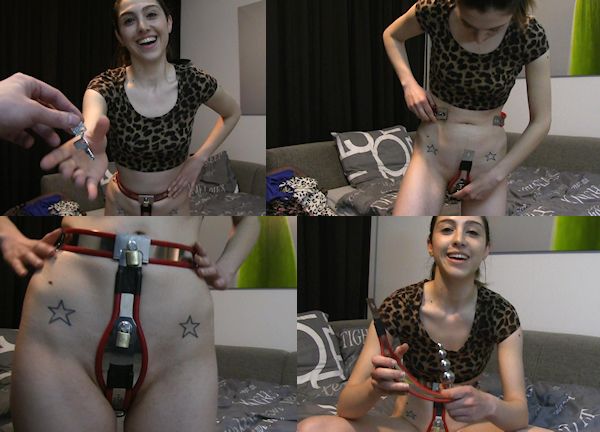 The mixed response from you (the members and visitors) to the last update was overwhelming. I really don't know what to do, but i will just keep doing what I think is best. Some say Donna should never have been unbelted (30 days = 30 days), even if it was only for a minute and it was all on camera (no chance of doing anything naughty). Others can't thank me enough for letting Donna try a plug. It has always been hard to please everyone with this website, but I hope you will understand that I am trying the best I can to do so.
Before Donna arrived, the most requested Challenge was definitely a plug. So that's what I went by. The risk was huge, but amazingly enough Donna was willing to try it. For about an hour. That's when she asked me for the keys to remove the plug from her body. Not because of the steel balls inside her, but because of the pressure on her hips. From today's interview, one could even get the impression that she almost felt sorry she couldn't enjoy the plug some more. No problem, I let her out (and she dutifully belted herself back into her red My-Steel using the regular front shield), and made arrangement for the plug front shield to be corrected. It was only around the 10th day, so there would be time to give the plug another try.
As promised, I asked Donna about her opinions on the plug and she gave me an honest interview on camera. You will be very surpised at the way she expresses her feelings about having a cold piece of metal locked inside of her! This gave me hope for the future :) I let Donna run around in her belt for the next few days, not mentioning the plug again. Even though it only lasted one hour (even less probably), this was promising!