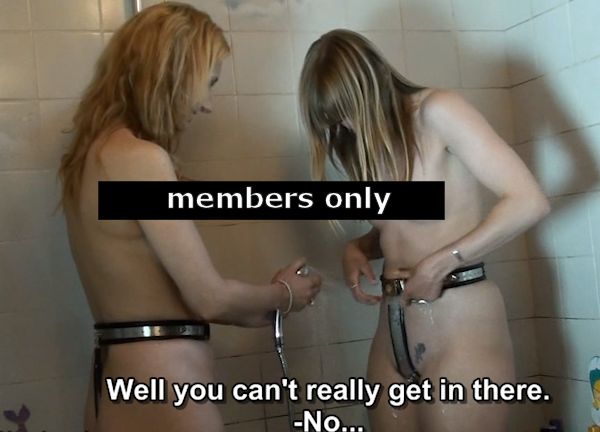 THIS UPDATE WAS SHOT ON DAY 3 OF THIS DEAL
Here is the much requested shower footage from day 3 of Silvie and Deborah's Chastity Deal! I'm afraid it is members only, for obvious reasons. If you're not a member, please join to see this video clip and about 250 more. That is over 64 gigabytes worth of unique female chastity content, for only 19,99 euro! Please support my cause (more girls in belts), even if you only like a few of the updates it will still be worth it, because there are no rotating archives like on other websites!
Silvie and Deborah actually enjoyed this shower, and it was much easier to clean themselves than they had thought. Drying off was harder though, and they realised they have to dry themselves really well, to avoid irritations or rash in the next days. Amazing, I never told them anything about skin care, but they even mention talcum powder and some other potential remedies and solutions.
Watching the bathroom camera feels a bit too private maybe, as the girls are rinsing each other and helping to adjust the rubber lining. But it gives us a good glimpse into their routines and a good listen into their feelings and worries. They had such a long way to go on day 3… it would be a very interesting Deal, with many happy (silly) moments but also with a lot of downsides. What a duo! You gotta love Silvie and Deborah!
Dutch dialogue. English subtitles are included in the member download!