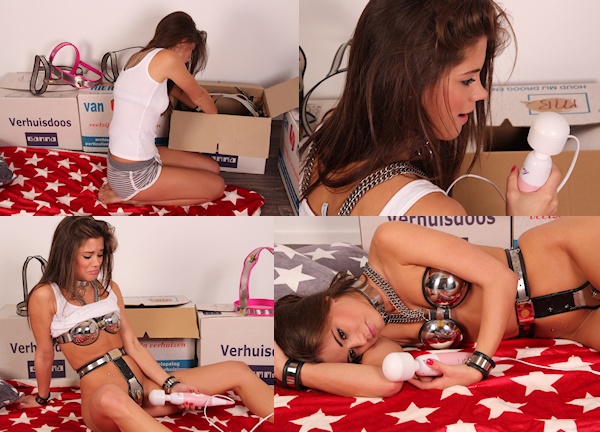 In the final part of Little Caprice's short Chastity Deal, we took her back to the studio (where we left the keys). She was still not in a good mood, and to make things worse, she had to wait in our studio for another 4 hours before she would be released from all of the chastity gear!
We put her on the floor in our storage area with a nice blanket and pillows, while we went to work on some content in the office area. Little Caprice was surrounded by boxes with new and old chastity belts, chastity belt parts, and other bondage items that we use for shoots. Of course, it didn't take long before her curiosity took over and she was rummaging through our stuff within 10 minutes! Little Caprice is such a clever girl, she noticed that some of the belts had their keys still in them, so she went and tried every one of them on her bra and belt! Fortunately for us, none of the keys fit her chastity gear, so she did not escape!
After some more searching and poking around, Little Caprice suddenly found one of her favorite things in the world: a magic wand vibrator! The look on her face was priceless! She couldn't wait to plug it in and play with herself, that would make the remaining hours a lot more fun!
But, as Little Caprice soon found out, the vibrations of a magic wand (no matter how strong) do not carry through the secondary shield. Actually, they do, but just enough to make her feel the vibrations, which was even more frustrating, because the spot where she wants to feel the vibrations is securely locked away! There is just no way she can climax! If you are a fan of frustrated chastity babes, this is the update to join for! It doesn't get much better than Little Caprice (one of the horniest cute girls in the world) finding a magic wand and then NOT being able to use it! This is gold. Female chastity gold. Don't miss it!
This is a real Chastity Deal, with a consenting participant under contract. Never belt a girl against her will! Remember these updates are not shot in a studio so picture quality may vary.