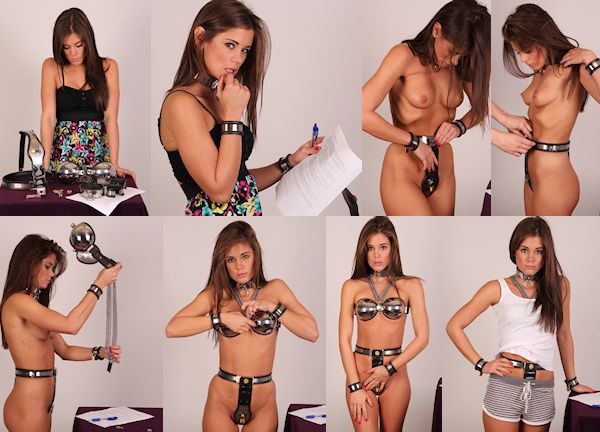 Ladies and gentlemen: we got her! Little Caprice, the number 1 cute girl on the planet (top model at x-art, holly randall, and many more glamour adult productions), will be locked into full chastity for at least 24 hours here at ChastityBabes.com!
Granted, it is not a very long contract, but she is a very very busy girl, shooting all over the world. To have her in full chastity, here at our place, just to watch her, and spend some time with her, that will be great! And take it from us, for a girl like Little Caprice, 24 hours is already very long, she is one of the naughtiest girls you have ever seen on this website! She loves to play with herself, especially at night and in the early mornings, so it will be a very restless night for her!!
In this update, you will see Caprice relunctantly signing a contract that will have her in chastity belt, chastity bra, collar, and wrist cuffs for at least 24 hours without any breaks at all. Then she proceeds to lock all the gear onto herself. She is pretty good at it, only needing a little bit of help (but not much). The belt is pretty tight, she has to hold her breath to lock it!
Her challenge starts now! We will take her home and film and photograph her progress, frustration, and just how her awesomely cute body moves around our place in full chastity. Caprice wasn't too sure about all this, but we are positive that this could be one of the top ranking Chastity Deals of 2013!