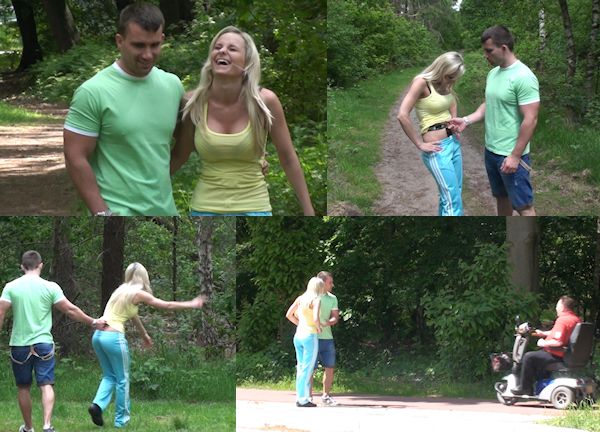 On day 4, Misha and Paul were relaxing and laughing during their afternoon walk. Misha tried to play it very clever on this hot afternoon: she was joking and pushing Paul around, until she would get a chance to sneak away.
Paul did a clever thing too: he left the keys at home, so even if he would feel sorry for his girl, he would easily resist any temptation of letting her out. Misha was feeling all of his pockets, she didn't believe Paul would leave the keys at home, actually a quite dangerous thing to do if something were to happen to them. But Paul really did that, there are no keys on this afternoon walk!
When Misha finally got the chance to sneak away, she just went to a busy road and waited for someone to see her chastity belt. What was she planning? Did she have a plan to begin with? Was she hoping someone would help her, or did she just want to get away from Paul, who was controlling her so much and even pulling her along by grabbing the back of the rigid style chastity belt?
Whatever the plan was, it didn't work. And it didn't take long for Paul to find her again, giving her a few little spanks on her bottom for doing something as dangerous as Misha did! He was not amused, but we have a feeling Misha is just playing with him, and it is all part of her plan to humor him and seduce him. It was only day 4! At this point we thought they would never last…
This is a real Chastity Deal, with consenting participants, there is no acting. Never belt a girl against her will! Remember these updates are not shot in a studio so picture quality may vary.
English subtitles are included in the member download!