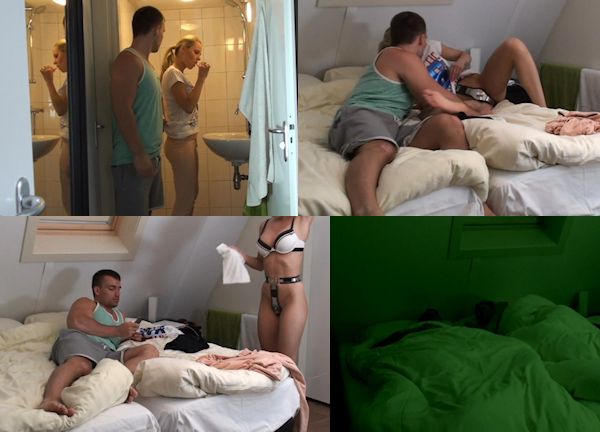 Incredibly, Misha made it through her first day. Well, it was not a full day of course, because she was belted in the afternoon. From the minute we left, Misha complained that her chastity belt was too tight and uncomfortable. We guess it was just the shock of suddenly being locked into a chastity belt for 10 days. It is definitely the most unexpected belting we ever did!
Paul on the other hand, was enjoying himself a lot. You can see in the videos that he actually loves the way Misha's body looks in the tight belt. He is constantly convincing her to deal with it, while she keeps complaining and even whining a little. For the first time of doing a boy-girl key holding, we think we have chosen a perfect pair! He is a teasing dominant, and she is a cute submissive, with a voice that is too tiny to really protest against her big guy.
Going to bed, and brushing their teeth, the couple discuss the belt and the sudden Chastity Deal. Misha is not sure at all she will make it through the 10 days. Even worse: she has to get up early in the morning to go to work! Paul doesn't seem to have to be anywhere, so he is not too worried. Misha managed to go all day without using the toilet, until she realises that the belt is not even coming off for that! Together, they study the perforated secondary shield, and Misha is even more horrified. She will have to pee through that, and then shower to clean herself! For 10 days!
Reluctantly, Misha gets into bed, only to find that she can not really lie down, except on her back. Eventually she finds a position that is comfortable, and she suddenly gets the idea of beating the challenge by staying in bed for 10 days. Unfortunately, the reality is that she will just have to get up and go to work. It should not be too bad, Paul thinks. After all, it is just a piece of tight metal and rubber padlocked to Misha's lower body. What could possibly be the problem with that?
This is a real Chastity Deal, with consenting participants, there is no acting. Never belt a girl against her will! Remember these updates are not shot in a studio so picture quality may vary.
English subtitles are included in the member download!