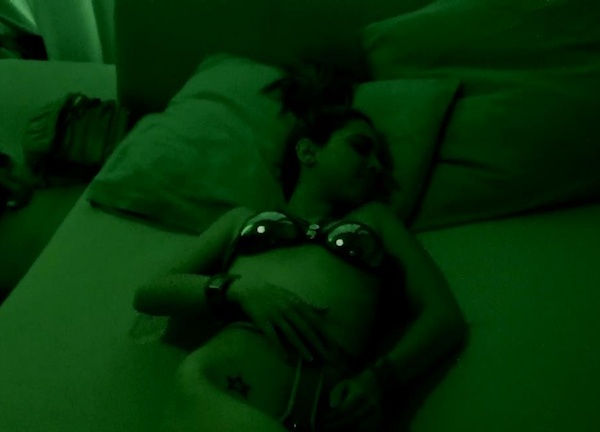 THIS UPDATE WAS SHOT ON DONNA DAY 29 (MAY 31st)
A lot of you have been asking for some more footage of Donna on day 29, the day we cuffed her wrists to the sides of her belt. We know that was wrong, this is not a bondage website. So we decided not to show too much of that, we did not want to scare potential candidates for a Chastity Deal.
Another reason why we did not publish a lot of day was that the secondary night camera turned out to be a terrible device. The footage from that camera is barely usable, it had a different angle on the bed, but the night vision and particularly the auto-focus were really bad in the dark.
Still, we managed to find a salvageable piece of video where you can see Donna getting no sleep at all, waking up all the time realising her wrists are cuffed to her waist. She had to sleep on her back, of course, but this was brutal. Now you know why Donna looked so tired on the day of the final unbelting!
Yes, we have received an email from Donna, and yes she wants to come back, she needs the money, and in hindsight it was not so bad (she thinks). Everyone will start shouting 'PLUG!' in the comments below, we know, but we are not sure if she is up for that. We are not even sure how a plugged Deal should work and what is possible. Just stay tuned and you might just see her return, but for now, Donna safely remains in Italy and that's a long way from us and any scary Chastity Deals.
Remember the Donna updates are not shot in a studio so picture quality may vary. Member pictures and videos are not censored in any way.