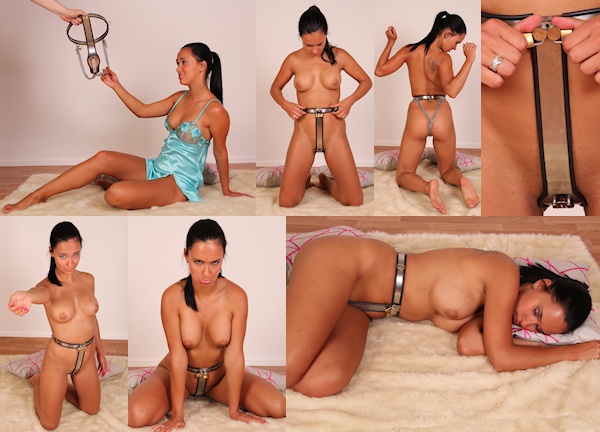 You have seen Victoria Sweet on MetalBondage.com, locked in a chain style chastity belt, but did you know that she was actually belted that day for a total of 10 hours of shooting and fun? This young funny girl got the same treatment as Taylor did, we booked her for a full day shoot, and she remained belted even when we went outside! Not bad for a girl who was never belted before!
But unlike Taylor, Victoria Sweet is a real belt fighter! She is going to be loved by those of you who like a fight. In this update she already shows her stubbornness and anger, by trying to break out of the belt, demanding the keys from us, sulking, and shaking her fists. Somehow Victoria can not stand being locked into something, be it handcuffs, a collar, or a chastity belt, her nature is to fight and struggle, even if the gear is made out of metal.
This is the moment of her first belting (and casting), and she never stopped fighting during the day (wait until you see the outdoors pictures and videos!). A gorgeous girl, in a great belt, makes for a beautiful picture set. You just have to see the pictures from this update, it's a perfect casting!
Next week, we will show you more of Victoria's day in Holland, a day she will never forget!