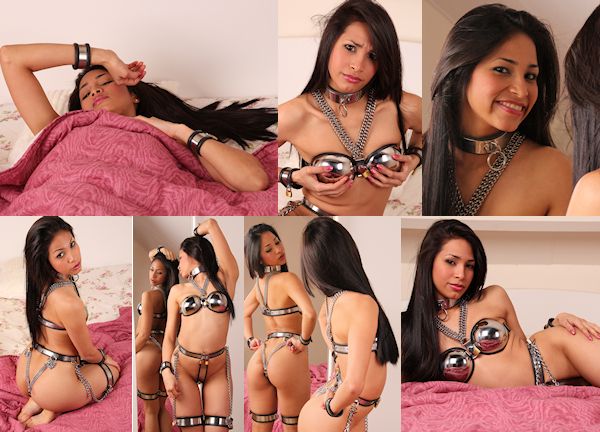 Our Latina babe Ruth had to go everywhere with us, locked in the chain style chastity belt, for 48 hours. Even to a fast food restaurant! Several short cleaning breaks were allowed. Supervised, of course. Why was she allowed some breaks? Well, Ruth had never been in a chastity belt before, and it would be too brutal to force her to wear it non-stop. Moreover, the chain style chastity belt we are using creates a big mess when using the toilet (well, urinating is fine, but the other thing… you don't want to know). Let's just say it is better to allow a girl to take it off for every toilet visit.
'Poor Ruth!', you might say, 'She failed to read the entire contract, and now she has to go out in public locked in a belt!'. Yes, that was the deal, but Ruth actually loved it, she just smiles at everything, she is just a very happy girl.
As we mentioned before, the contract also stated that she would be in FULL chastity during the nights. Ruth did not read that part either, but we doubt if she would have understood what that meant anyway. We held her to her contract, and sure enough Ruth was in full chastity for the entire night. She discovered that it is hard to sleep if you are new to all of this. Ruth was in her belt, chastity bra, and thigh bands (padlocked together). Cuffs and collar were added for some more decoration.
When Ruth got up, she was so curious to check herself out in the mirror, she almost forgot her upper legs were padlocked together. She looks so incredibly hot in all this metal, and of course she was still smiling… what a girl!