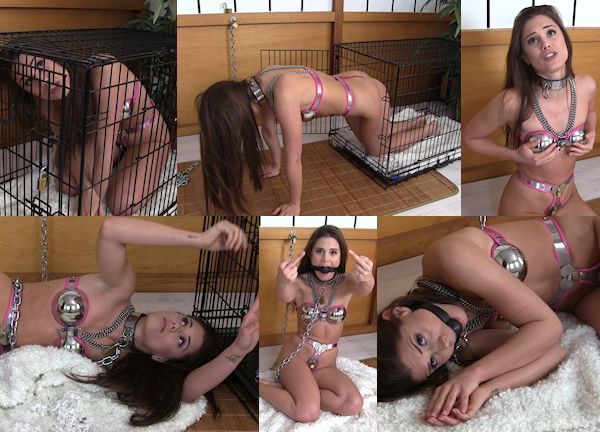 Little Caprice belted for a few days! She is so funny and pretty! And she really really hates chastity, so that's good. Caprice gets very moody when she can't touch herself, so I had to put her in a cage to calm down. Of course, that didn't make things better at all.
She complained the cage was too small to sleep in. So I let her out and chained her to the wall. She would have a lot of place to sleep and a blanket, but Caprice still complained she couldn't sleep with the chastity gear on and the chain was too cold when it touched her skin. She basically complained about everything. That's what happens when you put a horny girl in chastity. Be aware when you try this at home with your submissive: they will try everything to convince you to let them out. Begging, promises, and even getting angry.
Caprice was complaining so much, there was only one solution I could see. I am very sorry I had to do this, but yes… I made her put a big ballgag in her mouth. And then I padlocked the gag so she could not take it out. I know it is a harsh punishment, but I think it was the only way to calm her down and make her get some rest. Caprice in full chastity, chained to the wall, with a locked ballgag! I couldn't believe it either, but it was very simple to make her do things. Maybe she is a submissive? She sure doesn't act like one (yet). Let's see how her Chastity Deal evolves, I have a nice reward for her in mind if she behaves!