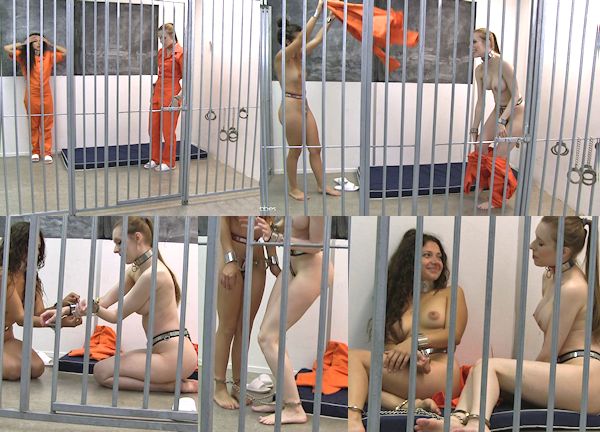 These girls! They just keep talking and talking. About clothes, guys, makeup, shoes… they were driving me insane. It was such a hot day too! I decided to stick them in the prison cell for a while so they could calm down and think about their situation. Of course, that did not have the effect I was looking for.
The girls were dressed in prison outfits, but they took them off within a minute just because it was 'too hot'. Dressed in nothing but their belts, collars, and cuffs, they talked and talked (again) about all kinds of things. I guess Anahi and Cobie are real good friends now! They share the same ordeal, so that helps bonding.
After they got a bit bored, they decided to experiment with some handcuffs and ankle cuffs that were hanging from the prison bars. That was not my intention, and there was no key. Cobie and Anahi managed to get stuck in a very awkward way, but that's their own fault. I wasn't going to help them with the cuffs, they shouldn't have touched them in the first place. I just left them there for a nice long time, and it looked like they calmed down a bit eventually.
After I got them out, we all went to dinner. We had a great time, and Cobie was doing so well! She still had a long way to go, but she was born to be in a chastity belt and she loves it, so this Deal would (hopefully) be no problem for her at all!