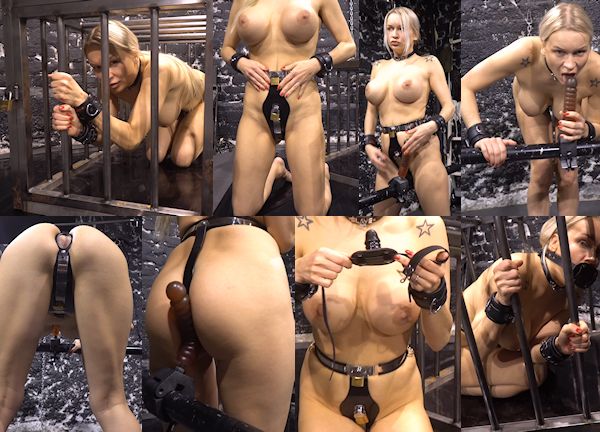 Dirty Mary is an owned submissive. She lives with her Master and she serves him 24 hours a day. A lot of this time, Mary is locked in her chastity belt, as her Master believes that she should be kept chaste at all times, until he wants to use her. Like KittyDenied's Master however, he likes to use her mouth more than her vagina, so Mary often serves her Master orally, and does not get any satisfaction herself. Satisfaction from serving her Master is enough for Mary, because she is a true sub.
Needless to say, all this chastity time gets her very horny and aroused. But it also helps her to focus and do her best in her training. Because there might be a reward if she tries really hard to please her Master. Locked in a steel cage for hours, in the dark dungeon, Mary is happy when she is let out. She knows it is just for oral training, but it's nice to stretch and get to show her skills to her Master.
Mary regularly practices on a mounted dildo to perfect her oral skills. She is getting quite good at it. Master watches from behind the camera and he sees how horny Mary is, but he does not let her out of her belt. In fact, after her dildo blowjob session, he tells her to strap a penis gag into her mouth and sends her back into the cage. The penis gag is quite large and Mary's eyes are wide open when she slides it in. She is so horny right now, but she is belted and there is nothing she can do. Mary goes back into the cage, penis gagged, all she can do is wait until her Master comes back.