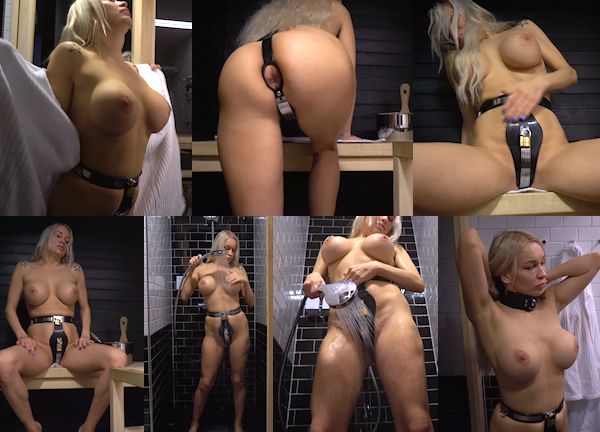 We have all seen Dirty Mary's sauna pictures, where she was enjoying her sauna in her tight Access Denied belt. Turns out she takes a sauna almost every day (well, she is from Finland, I guess that's pretty standard over there). But her Master keeps her locked most of the time, so Mary has gotten used to taking belted saunas!
I wondered if that could cause any problems. Isn't the metal getting too hot? Or is it hard to clean yourself after sweating so much in a chastity belt? Mary told me it is normal for her, she doesn't have any problems doing ANYTHING in her belt. And she takes a shower after her sauna, like everyone else, rinsing off the sweat and cleaning herself as well as she can. Of course, her Master allows her to take off the belt once in a while for a supervised cleaning break, but a belted shower after a steam works perfectly fine, Mary reports.
They made this video exclusively for ChastityBabes.com, to show other couples how easy it is to live a belted lifestyle. Mary wants to encourage more women to be belted (don't we all)! She is spectacular in her belt, and this video is really amazing, you can see every detail of the belt's front and back. Especially the perfect anal opening shows this is really a custom made personal belt. Mary enjoys her steam, then takes a shower and uses a towel to dry herself. She gets a bit distracted playing with the secondary shield lock, but her Master reminds her not to do that. She is instructed to collar herself after the shower and she kneels before her Master, like a good sub. Who wouldn't like to own a belted pet like Dirty Mary! She is amazing!