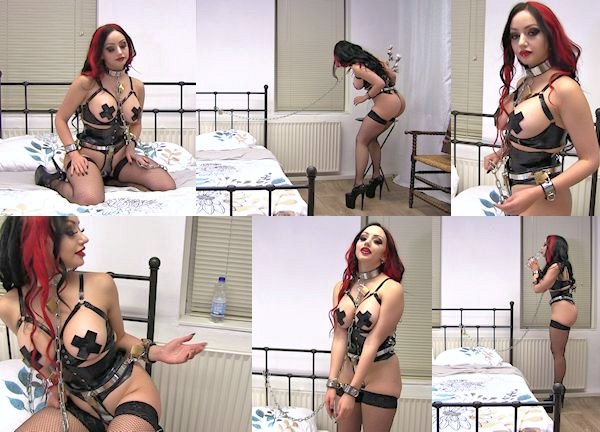 Dani Divine did not expect any bondage to be added to her afternoon Challenge, but she remained very very calm when I cuffed her wrists to her belt and chained her collar to the bed. She is such a confident statuesque appearance, Dani even still looks dominant when she is restrained.
She only had to stay in the bedroom for an afternoon to get a cash prize, locked in a chastity belt and some bondage. After some time that can get really hard for some girls, but I think Dani is very calm and composed. I had gone downstairs and left the camera running, I was chuckling at the fact that her water bottle and her phone were on the little table and she was chained to the bed by her collar.
Amazingly, Dani managed to get her phone and water bottle, balancing in her towering high heels, with her hands tightly locked to her belt! She probably thought that was a win, because she loves her phone and she even started making selfies again in the mirror. But then she discovered a huge problem: she could not drink from the water bottle. She had been able to grab it, but she couldn't open it with her hands locked to the side of the belt, and she certainly wouldn't be able to get it to her mouth. She eventually had to call me, because she was getting very thirsty.
I ran upstairs, but Dani was still very calm. She just told me she wanted a drink of water. I unlocked her wrists from her belt and locked them together in front of her. She was not amused because she thought her wrists would be free. I just left her again and she sighed, taking off her heels and getting comfortable on the bed. Only a few more hours…
It's a shame Dani is too famous and busy to do a longer Chastity Deal, but one day I will get her to be belted for a few days! She is just out of this world gorgeous, a stunning presence. Don't miss this video!