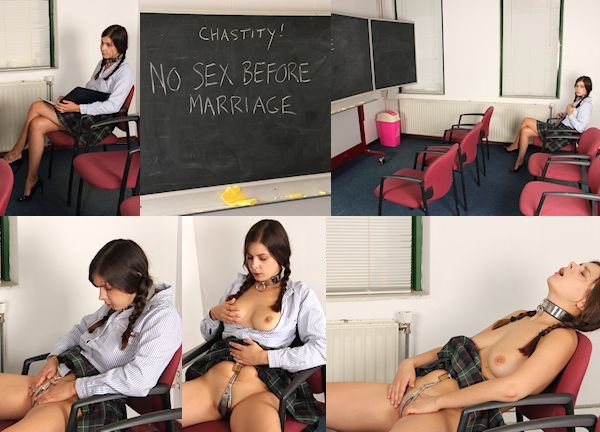 Ulysse from France is back! She goes back to school, for a chastity lesson (trust me, she needs these lessons a LOT!). It is explained to her that sex before marriage is frowned upon, but that may already be too late for this girl.
After everyone has left, Ulysse has to stay for a few more hours. She got detention for her behavior (not paying attention and not agreeing with the teacher). Collared and belted, there is not much she can do in the class room. Ulysse gets bored very quickly, and she is always horny, so she starts to explore her belt. The FancySteel belt is tight, and the huge padlock can not be tampered with. She tries to pull on the belt but it won't budge. She tries to rub the shield but she can't feel a thing.
Ulysse then tries to get her fingers through the anal opening, but there is no chance she will climax from that. She even tries to lick her nipple, which is silly, she knows she can't get much stimulation that way either. Desperately, she removes her school girl uniform to have better access to her belt. She is so frustrated! Ulysse realizes quickly there really is no way to orgasm in this belt. Maybe that's the only lesson she learned today: chastity is not easy, but it's good for girls like Ulysse, who are way too horny all day every day. She needs a belt to focus her mind on class. She won't be released soon, which will be very good for her. Even though this cute French girl definitely will not agree!