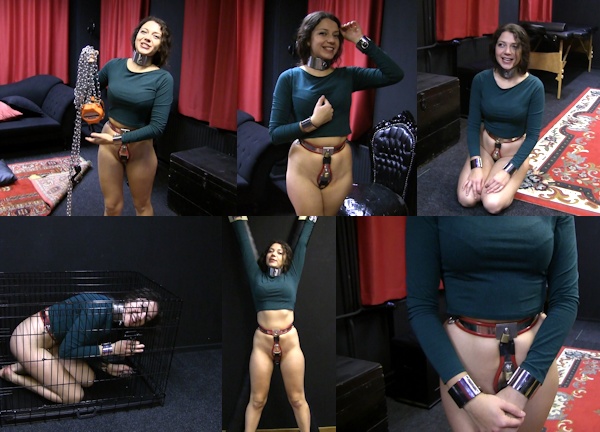 One of the rooms in my studio is 'the black room'. Or at least that's what everyone calls it. It is very dark, with a bondage cross, a massage table, and a cage. Also red curtains, carpets, and a nice big sofa.
When the studio is rented out to photographers, this is where most people love to shoot. So it is always a big mess after they leave, and my trusty assistant Anahí will clean it up and put everything back the way it was for the next shoot. But from now on, she will have to do this in her red My-Steel belt, and her big steel collar and tight fitting wrist cuffs. Why? You can read that here.
Some of you have met Anahí at BoundCon Munich in November, which was a great way for her to be introduced to the fetish world, but she was not belted and collared back then. She did get handcuffed a lot by visitors and photographers, because she is quite well known for escaping handcuffs! Now, she is getting more and more interested in fetish and bondage, and she loves being in her tight red My-Steel!
That's great, because she is my assistant and whenever she comes to work at my studio (which is quite often), she will have to be locked in the chastity belt, collar, and cuffs for the day. She is also available for meet and greets (we already had one fan at the studio, who had a lovely day with her), and custom videos and photo shoots in case you aren't able to make it over to the Netherlands.
I barged in on Anahi's cleaning job with my camera rolling, to interview her and let her explain what she does in the studio. She is so lovely, I'm sure you will enjoy this video! Don't miss it!