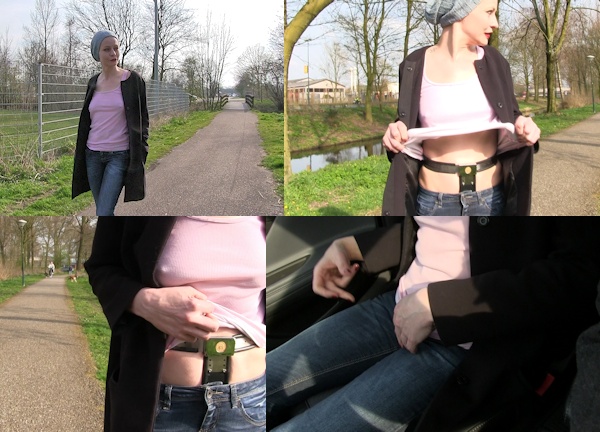 The very philosophical slave Y380 was locked in her double plugged chastity belt for 24 hours! Don't try this at home, at least not when you are trying this for the first time, it is much better to build it up and do a few hours at first. German slave Y380 has got a lot of experience with toys, both anal and vaginal, and she loves to wear plugs.
During our walk outside, I interviewed her some more, and she said things like 'it is freedom to wear anal and vaginal plugs' and 'every woman should be locked in a chastity belt'. Needless to say, I liked her very much! She shares my views, and she loves being in a belt, not having the keys to her freedom, and being plugged in both holes with a constant feeling of fullness.
It was great to find out what kind of problems could arise with long term double plugging. For example, the double plugs pushed on her bladder, so she felt like she had to pee all the time. She also said that she could probably run for a short distance, but not compete in the Olympics. Well, that isn't much of a problem, although I would like to organise some chastity Olympics (hopefully next year).
Y380 is one of the most interesting people I have met, and she truly loves being double plugged. She walked around like she wasn't even wearing a chastity belt, it was so easy for her! Of course, she was constantly reminded of the plugs, but she couldn't think of any real problems. Which proves a very important point! Maybe the new slogan should be 'all women should be in chastity belts AND double plugged ALL the time'. But let's not get carried away here. There's still a lot of work to be done.