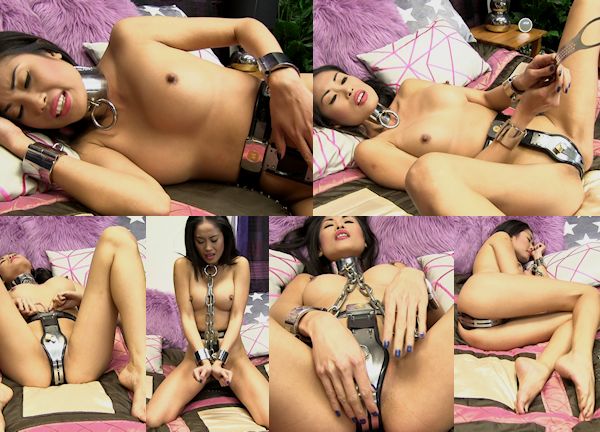 If you get to know Davon a little bit better, you will find out that her crying and sobbing is just an act. She is actually very clever and will try to use her small stature and sad face to get out of anything.
So when Davon wanted to go to sleep, the crying and complaining started again. The restraints were too heavy, the chastity belt was too tight, the plug was too big… if you aren't strong enough, you would let her out. But I saw through her act. So instead of unlocking her gear, I brought her the next piece of her outfit, her slave chains. These chains are not bondage chains, because they are long enough for Davon to stretch her arms, but they will add some more weight and remind her of her position in the studio. She is a slave and a housekeeper. There will be punishments and rewards.
Actually, Davon couldn't completely hide the fact that the big plug inside her was turning her on. That was the real reason she couldn't sleep. And she will never admit she is getting excited, she will try to play the pity card every time I come in. I think she will get used to her metal gear really fast. She will have to, even though it is now adding up to a good percentage of her body weight. Yes, it is heavy, and it is not easy. But how does leaving the Netherlands sound? She will do whatever it takes to stay here and she is making good progress. Everyone visiting the studio likes her and she loves to serve drinks, clean, and tidy up. I will keep her for a while!