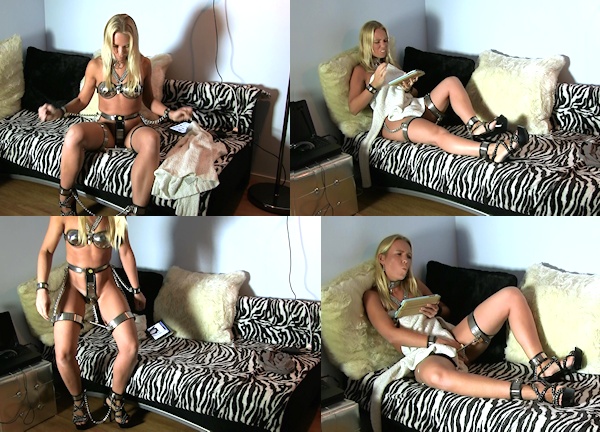 My good friend Natalie is probably one of the few Dutch girls that are really up for anything. She is very open minded, does a lot of nude modelling and webcamming, and she doesn't mind to be watched or filmed.
They say the first hour is always the hardest. After I left her in the most extreme full chastity to date (chained wrists and ankles, thigh spreader bar, plus the usual full chastity gear), Natalie tried to settle down on her couch to browse the web on her tablet. But she was cold (it wouldn't be possible to put on clothes for the next 24 hours at least), uncomfortable, and she really needed to get used to all this locked metal very fast or she would never make it. There was quite some money in it for her, but physically it was one of the hardest challenges I have ever set.
Natalie eventually got up from the couch, walking bow legged to her kitchen and back. She was still in her high heels, and she didn't think she could take them off, but she managed in the end (too bad…). The thigh spreader bar (which was a test and a member request) did not really work as well as I had hoped, sometimes the thigh bands turned and the distance between her legs wasn't quite as big as it should have been. Next time I need to put two bars between the thigh bands, one in front and one in the back, to keep the thigh bands from turning. It was nice to have the spreader bar chained to the secondary shield though, as this prevents a girl from slipping out of her thigh bands by bending her legs (which creates slack on the side chains).
All in all, Natalie was doing fine (a bit cold and uncomfortable, but nothing serious). It would be interesting to see how she would get on with her day!